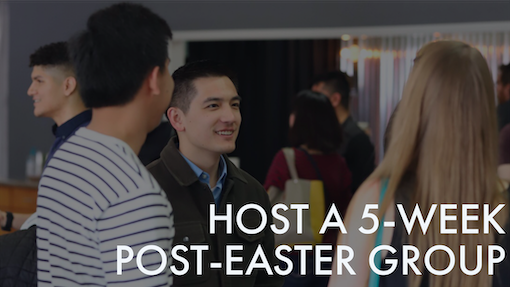 Post-Easter Groups 2019
We are super excited about the upcoming Post-Easter Groups that we as a church will be launching together! These groups will follow the theme of our new teaching series, Tidying Up Your Life, which will run from April 28 – May 26, 2019.
We would love to partner with you in hosting a sermon-based discussion group on Tidying Up Your Life. Together we will meet with friends and groups and dive into our workbook content to help us to focus and apply what we learned.
Interested in hosting a Tidying Up Your Life discussion group?
It's as easy as 1,2,3. Here are the steps:
Grab a couple friends

Decide when and where you'll meet –

Let us know here

Once you've created a group, we'll send you a FREE Small Group study guide
You did it! One of our Echo Groups coordinators will be in touch with you soon. As you invite your friends to join you, we'll also promote your group so that you have just the right amount of people in the journey with you.
INVITE A FRIEND:
"I'm hosting a 5-week discussion group based on Echo.Church's new teaching series called "Tidying Up Your Life". It's about the life-changing power of decluttering our hearts. We'd love for you to join us as we will unpack the Sunday messages and learn practical ways to apply it throughout our week."  
Who can be a host?
To be a HOST, you simply need to…
Have a heart for people

Open up your home or workplace

Serve a snack

Use the study guide provided to facilitate conversations
If you've got any questions, we'd love to hear from you. Please feel free to reach out to groups@echo.church.
Quick links:
Click here to find out more about becoming an Echo Group Leader.
Click here for more information about Echo Groups.