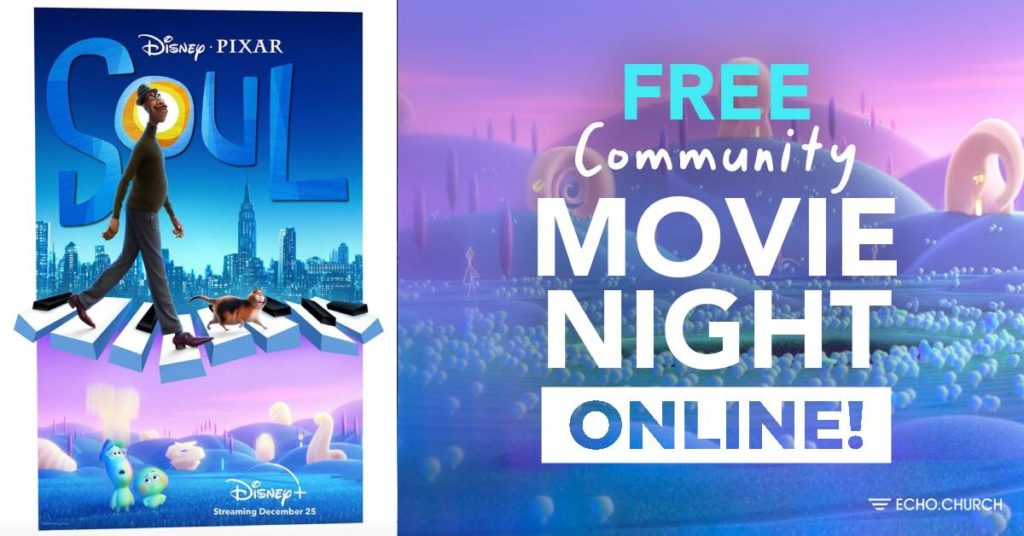 FREE VIRTUAL MOVIE NIGHT | PIXAR'S SOUL
Bring your friends and family to enjoy a Shared Online Watch Party of the hit Pixar movie:  SOUL
WHAT'S AN ONLINE WATCH PARTY?
Shared watch parties allow us to view the same movie together for people joining Echo around the globe! The Watch Party will be video hosted on the front end of the movie by our Online Team, and you'll then have a chance to chat along with our team or sit back and enjoy it with friends! All you'll need is to add a browser extension for the watch party, and login with your Disney+ subscription service. Don't have Disney+, we've got you covered! Just let us know as you register below and our team will get you a login.
HOW DO I JOIN THE WATCH PARTY?
In order to join the watch party you'll need 3 things:
Step 1: Join the Watch Party Link
Step 2:  Add the Browser Extension and create a login
Step 3: Enter your Disney+ Login
Step 4: Enjoy the Movie with friends!
SPREAD THE WORD by sharing or inviting your friends to this event – ALL are invited! 
  ABOUT SOUL
Joe is a middle-school band teacher whose life hasn't quite gone the way he expected. His true passion is jazz — and he's good. But when he travels to another realm to help someone find their passion, he soon discovers what it means to have soul.
WATCH THE TRAILER: https://youtu.be/xOsLIiBStEs
REGISTER BELOW
Movies have captivated our hearts and our attention. They reflect our common fears, our hopes, and our values.
These powerful stories don't just tell us about our own human experience, but they also intersect with God's truth for our everyday lives.
Join us on Sundays starting July 11 for one of our most popular series: AT THE MOVIES!
Bring your family and friends for a fun-themed experience at each of our campuses: Live music, free treats, and an inspiring message based on your favorite movies!
Join us
IN PERSON
for the FULL experience!